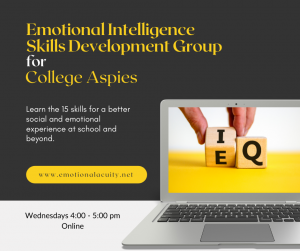 Emotional Intelligence for College Aspies is a coaching group designed specifically for college students who identify as being on the Autism spectrum to help them develop emotional intelligence skills that are essential for success in their personal and professional lives.
Each week, you will learn how to develop skills related to all 15 areas of emotional intelligence (EI), including self-awareness, emotional regulation, social communication, and building positive relationships and more. You will also learn how to leverage your strengths and apply lesser-used skills to improve your overall well-being and academic or job performance.
Informed with over 15 years of counseling and coaching experience, I'll guide you through the process of exploring these topics in a supportive, collaborative, and solution-focused setting. You will receive support from the group regarding challenges that come up throughout the week, brainstorm strategies, and have optional homework to further connect with skills.
By participating in this program, you will gain valuable skills such as reading social cues, communicating effectively, and building positive relationships with peers, professors, and employers. You will also learn how to use EI to manage stress and anxiety, which can improve your overall well-being and academic or job performance.
If you have any questions, feel free to contact me.
Details:
Cost: $960 for 12-week program, can be broken down into 3 monthly payments of $320
Private Facebook Group to ask questions, get support.
Discount on assessment. While not required, you are encouraged to take the  EI Assessment with private debrief prior to joining the group. 
Wednesdays 4:00 pm – 5:00 pm EST
For ages 18-20.
Questions? Contact me!